---



Orders and Medals of the
People's Republic of Albania (1945-76)
and People's Socialist Republic of Albania (1976-90)

Page updated: Nov. 19, 2006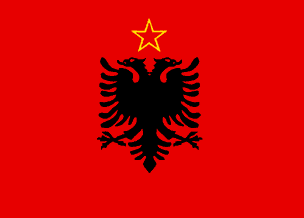 Title "Hero of the People"
(Titulli "Hero i Popullit") (1954)

Title "Hero of Socialist Labor"
(Titulli "Hero i Punės Socialiste") (1954)






Title "Hero of the People"
(Titulli "Hero i Popullit") (1945-54)






Order of Freedom 1st class
(Urdhėri i Lirisė i Klasit I) (1945)

Order of the Flag
(Urdhėri i Flamurit) (1945)

Medal of Remembrance
(Medalja e Kujtimit) (1945)

Order "Partisan Star" 1st class
(Urdhėri "Ylli Partizan") (1945)

Order of Skanderbeg 1st class
(Urdhėri i Skėnderbeut) (1945)






Order "For Patriotic Achievements" 1st class
(Urdhėri "Pėr veprimtari patriotike") (1962)

Order "For Defense of the Socialist Homeland" 1st class
(Urdhėri "Pėr mbrojtjen e Atdheut Socialist") (1965)

Order "Red Banner of Labor" 1st class
(Urdhėri "Flamuri Kuq i Punės") (1965)

Order of Freedom 2nd class
(Urdhėri i Lirisė i Klasit II) (1945)

Order "Partisan Star" 2nd class
(Urdhėri "Ylli Partizan") (1945)






Order of Skanderbeg 2nd class
(Urdhėri i Skėnderbeut) (1945)

Order "For Patriotic Achievements" 2nd class
(Urdhėri "Pėr veprimtari patriotike") (1962)

Order "For Defense of the Socialist Homeland" 2nd class
(Urdhėri "Pėr mbrojtjen e Atdheut Socialist") (1965)

Title "Mother Heroine"
(Titulli "Nėnė Heroinė") (1955)

Title "Teacher of the People"
(Titulli "Mėsues i Popullit") (1950)






Title "Artist of the People"
(Titulli "Artist i Popullit") (1960)

Title "Painter of the People"
(Titulli "Piktor i Popullit") (1960)

Title "Sculptor of the People"
(Titulli "Skulptor i Popullit") (1960)

Title "Distinguished Laborer in Science & Technology"
(Titulli "Punonjės i shquar i shkencės dhe i teknikės") (1965)

Order of Freedom 3rd class
(Urdhėri i Lirisė i Klasit III) (1945)






Order "Red Banner of Labor" 2nd class
(Urdhėri "Flamuri Kuq i Punės") (1965)

Order "Partisan Star" 3rd class
(Urdhėri "Ylli Partizan") (1945)

Order of Skanderbeg 3rd class
(Urdhėri i Skėnderbeut) (1945)

Order "For Patriotic Achievements" 3rd class
(Urdhėri "Pėr veprimtari patriotike") (1962)

Order "For Defense of the Socialist Homeland" 3rd class
(Urdhėri "Pėr mbrojtjen e Atdheut Socialist") (1965)






Order of Bravery
(Urdhėri i Trimėrisė) (1945-82)

Title "Meritorious Teacher"
(Titulli "Mėsues i merituar") (1950)

Title "Meritorious Artist"
(Titulli "Artist i merituar") (1960)

Title "Meritorious Painter"
(Titulli "Piktor i merituar") (1960)

Title "Meritorious Sculptor"
(Titulli "Skulptor i merituar") (1960)






Order of Labor 1st class
(Urdhėri i Punės) (1945)

Order "For Distinguished Labor in Mining & Geology" 1st class
(Urdhėri "Pėr punė tė shquar nė miniera dhe nė gjeologji") (1965)

Order "For Distinguished Labor in Agriculture" 1st class
(Urdhėri "Pėr punė tė shquar nė ekonominė bujqėsore") (1965)

Order "For Distinguished Defense Service" 1st class
(Urdhėri "Pėr shėrbime tė shquara nė fushėn e mbrojtjes") (ca. 1968)

Order "For Distinguished State & Community Service" 1st class
(Urdhėri "Per shėrbime tė shquar shtetėrore dhe shoqėrore") (1965)






Order "Naim Frasheri" 1st class
(Urdhėri "Naim Frashėri") (1965)

Order of Military Service 1st class
(Urdhėri i Shėrbimit Ushtarak) (1949/65)

Title "Distinguished Master of Profession"
(Titulli "Per mjeshtėr shquar ne profesion") (1965)

Title "Exemplary Oil-Worker and Exemplary Miner"
(Titulli "Naftėtar i zgjedhur dhe minitor i zgjedhor") (1953-65)

Order "Red Star"
(Urdhėri "Ylli i Kuq") (1952-65)
Order "Red Star" 1st class
(Urdhėri "Ylli i Kuq") (1965)






Order "For Brave Deeds"
(Urdhėri "Pėr vepra trimėrie") (1965)

Title "Good Oil Worker and Good Miner"
(Titulli "Naftėtar i mirė dhe minitor i mirė") (1953-65)

Order "Motherhood Glory" 1st class
(Urdhėri "Lavdi Nėnės") (1950)

Order of Labor 2nd class
(Urdhėri i Punės) (1945)

Order "For Distinguished Labor in Mining & Geology" 2nd class
(Urdhėri "Pėr punė tė shquar nė miniera dhe nė gjeologji") (1965)






Order "For Distinguished Labor in Agriculture" 2nd class
(Urdhėri "Pėr punė tė shquar nė ekonominė bujqėsore") (1965)

Order "For Distinguished Defense Service" 2nd class
(Urdhėri "Pėr shėrbime tė shquara nė fushėn e mbrojtjes") (ca. 1968)

Order "For Distinguished State & Community Service" 2nd class
(Urdhėri "Per shėrbime tė shquar shtetėrore dhe shoqėrore") (1965)

Order "Naim Frasheri" 2nd class
(Urdhėri "Naim Frashėri") (1965)

Order "For the Defense of the State Frontiers of the PRA/PSRA"
(Urdhėri "Per mbrojtjen e kufirit shtetėrore tė RPSH/RPSSH") (1965)






Order "For Maintenance of Public Security"
(Urdhėri "Pėr ruajtjen e rendit shoqėror") (1965)

Order "For Civil Bravery"
(Urdhėri "Per trimėri civile") (1965)

Order of Military Service 2nd class
(Urdhėri i Shėrbimit Ushtarak) (1965)

Order "Red Star" 2nd class
(Urdhėri "Ylli i Kuq") (1965)

Order "Motherhood Glory" 2nd class
(Urdhėri "Lavdi Nėnės") (1950)






Order "For Meritorious Service to the People"
(Urdhėri "Per shėrbim tė mire popullit") (1965)

Order of Labor 3rd class
(Urdhėri i Punės) (1945)

Order "For Distinguished Labor in Mining & Geology" 3rd class
(Urdhėri "Pėr punė tė shquar nė miniera dhe nė gjeologji") (1965)

Order "For Distinguished Labor in Agriculture" 3rd class
(Urdhėri "Pėr punė tė shquar nė ekonominė bujqėsore") (1965)

Order "For Distinguished Defense Service" 3rd class
(Urdhėri "Pėr shėrbime tė shquara nė fushėn e mbrojtjes") (ca. 1968)






Order "For Distinguished State & Community Service" 3rd class
(Urdhėri "Per shėrbime tė shquar shtetėrore dhe shoqėrore") (1965)

Order "Naim Frasheri" 3rd class
(Urdhėri "Naim Frashėri") (1965)

Order of Military Service 3rd class
(Urdhėri i Shėrbimit Ushtarak) (1965)

Order "Red Star" 3rd class
(Urdhėri "Ylli i Kuq") (1965)

Order "Motherhood Glory" 3rd class
(Urdhėri "Lavdi Nėnės") (1950)






Medal of Bravery
(Medalja e Trimėrisė) (1945-82)

Medal of Liberation
(Medalja e ēlirimit) (1945)

Medal "For Patriotic Achievements"
(Medalja "Pėr veprimtari patriotike") (1962)

Title "Distinguished Oil Worker and Distinguished Miner"
(Titulli "Naftėtar i dalluar dhe minitor i dalluar") (1953-65)

Medal of Labor
(Medalja e Punės) (1945)






Medal "For Distinguished Labor in Mining & Geology"
(Medalja "Pėr punė tė shquar nė miniera dhe nė gjeologji") (1965)

Medal "For Distinguished Labor in Agriculture"
(Medalja "Pėr punė tė shquar nė ekonominė bujqėsore") (1965)

Medal "For Distinguished Defense Service"
(Medalja "Pėr shėrbime tė shquara nė fushėn e mbrojtjes") (ca. 1968)

Medal "For Distinguished State & Community Service"
(Medalja "Per shėrbime tė shquar shtetėrore dhe shoqėrore") (1965)

Medal "Naim Frasheri"
(Medalja "Naim Frashėri") (1965)






Medal "For Brave Deeds"
(Medalja "Pėr vepra trimėrie") (1965)

Medal of Military Service
(Medalja e Shėrbimit Ushtarak) (1949-65)

Medal of Military Service
(Medalja e Shėrbimit Ushtarak) (1965)

Medal "For Long Service in the Armed Forces"
(Medalja "Pėr shėrbim shumėvjeēar nė forcat e armatosura") (ca. 1965)

Medal "For the Defense of the State Frontiers of the PRA/PSRA"
(Medalje "Per mbrojtjen e kufirit shtetėrore tė RPSH/RPSSH") (1956)






Medal "For Maintenance of Public Security"
(Medalja "Pėr ruajtjen e rendit shoqėror") (1956)

Medal "For Bravery in Labor"
(Medalja "Pėr trimėri nė punė") (1956-65)
Medal "For Civil Bravery"
(Medalja "Per trimėri civile") (1965)

Medal "Red Star"
(Medalja "Ylli i Kuq") (1965)

Medal "For Meritorious Service to the People"
(Medalja "Per shėrbim tė mire popullit") (1965)

Medal for Arts
(Medalja e Artė) (1965)






Motherhood Medal - silver
(Medalja e Nėnės - Argjėndi) (1950-70)

Motherhood Medal - bronze
(Medalja e Nėnės - Bronxi) (1950-70)

Medal for the 10th Anniversary of the Army
(Medalja e 10-vjetorit tė Ushtricė) (1953)

Medal for the 40th Anniversary of the Labor Party of Albania
(Medalja e 40-Vjėtorit i Partia Punės e Shqipėrisė) (1981)
Notes:
1) Albanian orders were worn either as stars without ribbons, mounted with screws or suspended from ribbons folded in pentagonal manner.
2) The width of the ribbons was 20 mm; however service ribbons were 30 mm wide.
3) service ribbons were worn mostly as enameled or painted bars.

This chart would not be possible without The Decorations of Socialist Albania by Eric R. Schena, the most comprehensive work on the subject.
---
© Lukasz Gaszewski 2000,